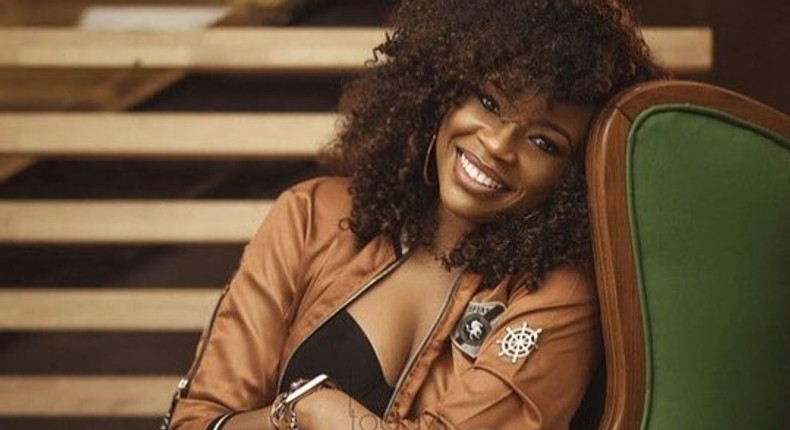 "Give credit where it's due." These exceptional female directors deserve accolades.
The Nigerian film industry has rapidly grown to become the second-largest film industry in the world after India's Bollywood. While male directors like Kunle Afolayan, Tunde Kelani, and Akin Omotosho have been prominent in the industry, female directors have equally been remarkable.
These women have not only made a name for themselves but have also contributed significantly to the growth and development of the Nigerian film industry.
They have displayed exceptional skills, vision, and creativity in their works, creating compelling and thought-provoking stories that resonate with audiences both locally and internationally, breaking through the traditional barriers and making a mark in the male-dominated industry.
Here are the top 5 female directors in Nollywood who are producing some of the best films in the industry:
1) Kemi Adetiba
Kemi Adetiba, a multi-talented Nigerian filmmaker, has proven herself to be one of the most outstanding movie directors the country has ever produced. Beyond directing movies, she is also an accomplished filmmaker and music video director.
Born on January 8, 1980, she is the daughter of Mr Dele Adetiba, a broadcasting and advertising veteran, and Mrs Mayen Adetiba, a civil engineer.
Her passion for the entertainment industry began when her father introduced her to the sector, and she started her career as a radio host on Rhythm 93.7fm. She hosted popular shows like 'Soul'd Out' and 'Sunday at the Seaside.'
Despite studying law at the University of Lagos, Adetiba soon realised that her calling was in the entertainment industry. She pursued her passion and established herself as a renowned filmmaker, with several accomplishments under her belt.
She later enrolled in the New York Film Academy to study acting and further develop her craft.
She directed her first short film, 'Across the Bloodied Ocean' in 2008. The film starred Osas Ighodaro and Dee Spencer and was written, produced, and directed by Adetiba herself. The short film was screened at the 2009 Pan African Film Festival and the National Black Arts Festival in Atlanta.
In 2016, she directed her first feature film, the popular 'The Wedding Party,' which was a huge success. She went on to direct two other successful movies, 'King of Boys' and its sequel, 'King of Boys: The Return of the King.'
Her work has appeared on popular TV channels such as Channel O, MTV Base, Sound City TV, BET, and Netflix. Her movie, 'King Of Boys,' a political thriller, remained in the cinema for 14 weeks straight and grossed ₦104 million.
In addition to her outstanding work in the movie industry, Adetiba is also known for directing music videos for some of Nigeria's finest artists, including Tiwa Savage, Wizkid, Banky W, Olamide, and others.
Her diverse talents and exceptional skills have earned her numerous nominations and awards. She was nominated for Best Music Video Director of the Year at The Headies in 2014 and won the City People Entertainment Award for Best Music Video Director of the Year in 2015.
Adetiba also won the HNWOTY Award for Woman of the Year in Film and Television in 2017.
2) Mildred Okwo
Mildred Okwo is a renowned Nigerian film director and producer, known for her exceptional contributions to the Nigerian film industry.
Born on April 29, 1966, in Lagos State, Nigeria, she had a passion for entertainment from a young age, which eventually led her to pursue her academic studies in Theater Arts at the University of Benin.
She later went ahead to study law at the Whittier Law School, Orange County, California, USA, and also acquired a degree in Business from the California State University.
Okwo's film career started in 2005 when she shot her first film, '30 Days.' The movie, which had nine African Movie Academy Awards (AMAA) nominations, received critical acclaim, establishing her as one of the best film directors in the country.
In 2012, she directed the romantic comedy-drama film 'The Meeting,' which topped the box office of Nollywood films in the country and earned numerous awards, including the Nigeria Entertainment Awards (AMAA), and Nollywood Movies Awards.
Her other directorial works include 'Suru L'ere' in 2016, which was another box office hit and won several awards at the African International Film Festival and the Africa Magic Viewers' Choice Awards.
In 2020, she directed the highly anticipated 'La Femme Anjola,' which features Nollywood stars like Rita Dominic and Nonso Bassey.
Her movies have won numerous awards, both locally and internationally. She was nominated for the Best Director award at the 4th Africa Movie Academy Awards and was also named one of "50 Women Shaping Africa" by Elle Magazine in 2016.
In addition, she is a founding member of the Nigerian Oscar Selection Committee, which is responsible for selecting the Nigerian film that will represent the country at the Academy Awards.
In recent times, Okwo has been featured in several documentaries and interviews, including a BBC documentary about female film directors in Nigeria.
Her exceptional storytelling and directing skills have placed her at the forefront of the Nigerian film industry and made her a role model for young filmmakers in the country.
3) Funke Akindele
She is a multi-talented Nigerian film director, actress, and producer who has garnered widespread acclaim for her contributions to the entertainment industry.
Born on August 24, 1977, in Lagos State, Nigeria, her style of acting quickly won the hearts of many movie lovers. She is best known for her role in the iconic TV series 'Jenifa's Diary,' which has become a household name in Nigeria and beyond.
Akindele has produced and starred in several successful films, including 'Omo Ghetto: The Saga,' 'Battle on Buka Street,' and 'Chief Daddy.' Her movie, 'Battle on Buka Street' is currently the highest-grossing movie of all time.
In addition to her acting and production prowess, she has also directed a number of movies. Her directorial debut was in 2011, with the movie 'Return of Jenifa,' a spin-off from the popular TV series 'Jenifa's Diary.' Since then, she has directed a few other movies, including 'Your Excellency' and 'Moms at War.'
4) Jade Osiberu
Osiberu is undoubtedly one of the most talented and creative directors in the Nigerian film industry. With her exceptional writing and production skills, she has made a name for herself in the entertainment industry.
Born on August 18, 1985, in Lagos, Nigeria, Jadesola attended the University of Manchester, where she obtained a degree in Computer Systems Engineering. She later went on to acquire a Master's degree in Media and Communications at Pan Atlantic University.
After working for a while in her field of study, Jadesola decided to pursue her passion for filmmaking. She honed her directing skills by working on television series like 'Gidi Up,' 'Rumour Has It,' and 'The Juice' while working with Ndani TV.
Through her work on these series, she quickly gained a reputation for her unique vision and storytelling skills.
Osiberu's directorial abilities were put to the test when she directed her first movie 'Isoken,' which won the Best Nigerian Film at the 2018 Africa Movie Academy Awards (AMAA).
Her second film was 'Sugar Rush,' a romantic comedy released in 2019 that featured some of Nollywood's most notable actors, including Adesua Etomi-Wellington, Omoni Oboli, and Bisi Aiyeola. The film was a critical and commercial success, garnering rave reviews from critics and audiences alike.
In 2022, she became the first African filmmaker to sign an exclusive overall deal with Prime Video. Her highly anticipated 'Gangs of Lagos' is set to be the platform's first Nigerian original. Her exceptional talent has been recognised by many, and she has won several awards for her work in the film industry.
5) Tope Oshin
Temitope Oshin is a talented director who has a knack for creating captivating stories that are brought to life on the big screen. Her directorial skills are unmatched, and she has established herself as one of the leading directors in the movie industry.
Born on June 10, 1979, in Lagos, Nigeria, she studied economics at the University of Ilorin. Then, her interest shifted to public administration, and she left the programme to pursue her dreams.
She later completed a degree in Theatre Arts, and Television and Film Production at Lagos State University, which laid the foundation for her career in filmmaking.
After graduation, Oshin went on to hone her skills at the Colorado Film School of the Community College of Aurora, Denver, where she majored in film directing.
Her dedication to her craft paid off, as she has gone on to direct up to 750 episodes of some of Africa's biggest drama series, like 'MTV Naija Shuga', 'Tinsel', 'Hotel Majestic', and 'Hush'.
Oshin is also responsible for directing some of the most successful movies in the Nigerian film industry. Her directorial works include 'New Horizons', 'Journey To Self', 'Up North', and 'New Money'.
Her directorial skills have been recognised by some of the biggest names in the industry, and she has become a role model for aspiring filmmakers. With her passion and dedication to her craft, there is no doubt that Oshin will continue to make her mark in the movie industry.
JOIN OUR PULSE COMMUNITY!
Our newsletter gives you access to a curated selection of the most important stories daily.
Welcome to the Pulse Community! We will now be sending you a daily newsletter on news, entertainment and more. Also join us across all of our other channels – we love to be connected!
Unblock notifications in browser settings.