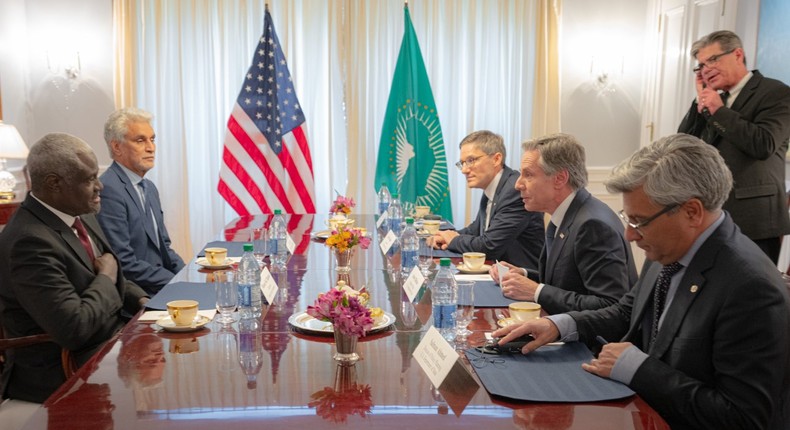 The United States has committed $331 as an aid to Ethiopia, following its recently concluded war. 
This fund is coming after US Secretary of State Antony Blinken, paid a visit to Ethiopia on Wednesday. 
Blinken's trip is the most recent in a series of trips to the continent by senior US officials. 
During a trip to Addis Ababa to strengthen ties between the US and the East African nation, US Secretary of State Antony Blinken announced $331 million in new humanitarian aid to Ethiopia.
After meeting with the leaders of the nation on Wednesday, Blinken paid a visit to a United Nations logistics warehouse in the capital of Ethiopia and announced the aid package. According to a report from Aljazeera
"This funding will provide life-saving support to those displaced and affected by conflict, drought, and food insecurity in Ethiopia," the US Secretary of State said in a statement.
According to the top US diplomat, the new assistance brings the total amount of US aid for Ethiopia in 2023 to $780 million. He continued by saying noting that Ethiopians would receive "food, shelter, clean drinking water, sanitation and hygiene, healthcare initiatives, education, and other key services" as a result of the funding.
Blinken made the announcement after earlier that day's meetings with Ethiopia's Foreign Minister Demeke Mekonnen and Prime Minister Abiy Ahmed.
The US Secretary of State's trip to Ethiopia also comes in the wake of a November 2016 agreement to put an end to the bloody fighting in the northern Tigray region between rebels and Ethiopian government forces.
In the course of the conflict, which resulted in tens of thousands of deaths and millions of displaced people, Ethiopian forces and their allies are accused of committing atrocities, for which the US had criticized Abiy's government.
In the midst of the fighting, Washington imposed broad restrictions on Addis Abeba's access to economic and security assistance and severed its ties to a duty-free trade initiative for sub-Saharan African nations.
For his part, Abiy said in a Twitter post that he discussed various bilateral issues with Blinken. "We have agreed to strengthen the long-standing bilateral relations [between] our countries with a commitment to partnership," he wrote.
The administration of President Joe Biden is working to strengthen ties with African nations in the face of competition from China and Russia, and Blinken's trip is the most recent in a series of trips to the continent by senior US officials.
On Thursday, the US secretary of state will travel to Niger, a country in West Africa that has been dealing with armed groups.
JOIN OUR PULSE COMMUNITY!
Our newsletter gives you access to a curated selection of the most important stories daily.
Welcome to the Pulse Community! We will now be sending you a daily newsletter on news, entertainment and more. Also join us across all of our other channels – we love to be connected!
Unblock notifications in browser settings.