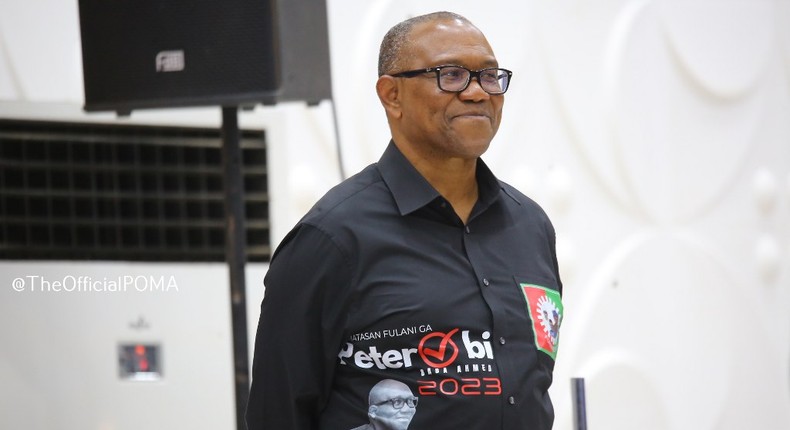 In a recent development, Peter Obi, the Labour Party's presidential candidate, has reversed his previous stance on contesting the 2023 presidential election result.
Initially, he had stated that he would only contest the process that resulted in the declaration of the All Progressives Congress' Bola Tinubu as the winner of the February 25 presidential election and not the declaration itself. However, he has now taken a different stance.
He made this U-turn in a tweet posted to his verified Twitter handle Monday afternoon, March 13, 2023, saying he is at the tribunal to challenge both the process and the outcome.
What Obi said earlier: During an interview on Arise TV's 'The Morning Show' on Monday morning, Obi had stated that he would solely contest the electoral process that led to the declaration of Tinubu as the winner of the presidential election by the Independent National Electoral Commission.
He clarified that he had no intention of challenging the declaration itself.
"I'm not challenging who they declared," Obi had stated, "I'm not challenging whatever…the outcome, I'm challenging the process (through) which they arrived at their declaration."
"The process through which people come into office is for me…far more fundamental than what they do thereafter. There is a process of doing things. There is a process of arriving at any destination. Like I said in my press conference, if you're going to answer 'His Excellency', the process of coming to that position must be excellent. If you're going to be a Bishop, there's a process of being a Bishop," Obi had maintained.
The key takeout: However, taking a quick U-turn, Obi has clarified that he would challenge both the electoral process and the declaration itself.
JOIN OUR PULSE COMMUNITY!
Our newsletter gives you access to a curated selection of the most important stories daily.
Welcome to the Pulse Community! We will now be sending you a daily newsletter on news, entertainment and more. Also join us across all of our other channels – we love to be connected!
Unblock notifications in browser settings.