Voting has been suspended in the affected polling unit after thugs destroyed ballot papers and other election materials.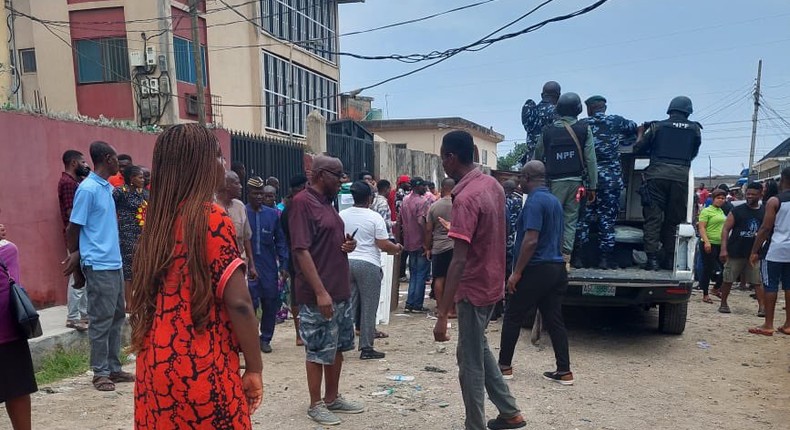 The ongoing governorship and state assembly elections in the Okota area of Lagos State has been disrupted by thugs who invaded Polling Unit 008, Taiwo Street, Ago Palace Way, Okota.
Multiple reports have it that a man, suspected to be one of the thugs that invaded the polling unit, was shot dead by security operatives who were trying to prevent him from carting away election materials.
However, while their attempt to take away the election materials was successfully rebuffed, the thugs reportedly succeeded in destroying all the ballot papers meant for use in that particular polling unit.
The Pulse correspondent that visited the scene shortly after the incident reported that an additional police team was deployed to the area to maintain peace and ensure voting continues peacefully.
But, things got a bit interesting when residents of the area who are meant to cast their votes at the affected polling unit blocked the road to prevent the police team from leaving the scene.
They insisted that the Independence National Electoral Commission (INEC) officials must replace the ballot papers destroyed by the thugs with new ones to enable them cast their votes.
"However, the problem here is that most of the ballot papers were already destroyed so votes in this area could be nullified. So the people are upset and what they're advocating for is for election to be held again so that they cast their votes," a voter told Pulse correspondent.
Pulse reports that cases of violence, voter suppression, and voter intimidation have been recorded in several parts of the state with claims that people of the South-East extraction are being targeted.
Places where such incidents have been reported so far include Iyana-Isashi, Ikorodu, and Ikota areas of Lagos.
JOIN OUR PULSE COMMUNITY!
Our newsletter gives you access to a curated selection of the most important stories daily.
Welcome to the Pulse Community! We will now be sending you a daily newsletter on news, entertainment and more. Also join us across all of our other channels – we love to be connected!
Unblock notifications in browser settings.