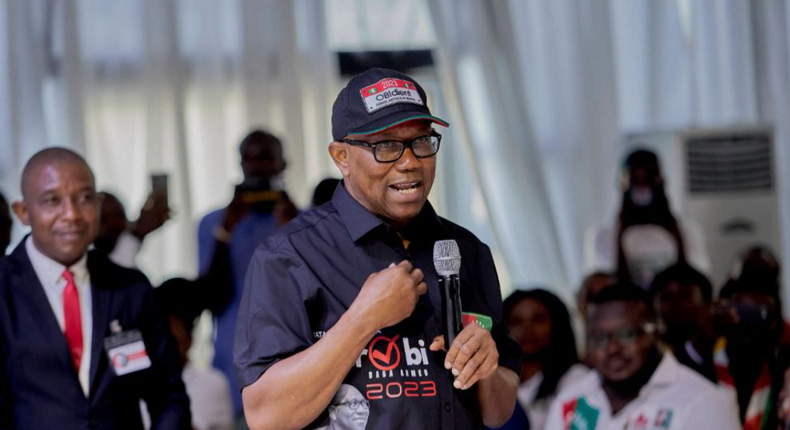 In preparation for the March 18, 2023, gubernatorial elections across Nigeria, Peter Obi has instructed members of his Obidient movement to cast their votes for candidates who possess character, competence, capacity, and compassion.
Why Obi said this: He emphasized that it is irrelevant whether these candidates belong to the Labour Party or any other political party, as the movement would endorse good candidates regardless of their affiliation.
What you should know: During an interview with Arise TV, Obi elaborated on why his party did not field gubernatorial candidates in most states for the upcoming election.
In Peter Obi's words: "Nigerian politics has been largely transactional. When we started the Obidients movement people didn't believe what we were trying to do. The consequence is that we didn't have candidates in most states.
"Because being a traditional thing, people like to be where things are shared. So nobody believed that a party without a councillor or local government chairmen can just rise up and become something. So we didn't have candidates in most places.
"Few places we were able to have candidates, I can say, were first-class candidates. In some places[where we don't have candidates], we'll work with some good candidates. In the Southeast, we only have candidates in two states.
"We're urging people to support [Labour Party's adopted candidates] where we're going to have partnerships like in Cross River State, where we have someone like Prof Sandy Onor of the PDP, we consider him an excellent candidate.
"For me, it's about having competent, credible people who have proven integrity that can do well. We're not saying it must be the Labour Party always. Where we think we have good people we'll support them. It must not be [Labour Party] but wherever there is a better candidate. It's time we build this institution and ensure we do the right thing. For me, I want people to indicate places where we have good candidates and we'll go and support them."
Meanwhile: Peter Obi has debunked sentiments of divinity being attached to the recent presidential election results, as announced by Independent National Electoral Commission, INEC. READ MORE
JOIN OUR PULSE COMMUNITY!
Our newsletter gives you access to a curated selection of the most important stories daily.
Welcome to the Pulse Community! We will now be sending you a daily newsletter on news, entertainment and more. Also join us across all of our other channels – we love to be connected!
Unblock notifications in browser settings.