A woman who claims that Lil Durk has not acknowledged paternity for her son became angry and went off on the rapper on Saturday after he posted that he wanted more children.
Lil Durk already has six children, Angelo, Bella, Zayden, Du'mier, Skyler Banks, and Willow Banks, as he became a father at a very young age. The rapper, however, says that he wants to have at least one more child, a son, before he retires from having children.
Writing on Instagram on Saturday, Lil Dirk said, "I want one more son then I'm done [laughing emoji] idk when or how but I do." A woman by the name of Travonna, who claims that Lil Durk fathered her son but has been a "deadbeat," was not happy at the rapper's post as she pointed out he already has a son he refuses to acknowledge.
"You talking about having another son when you haven't done SH*T for OUR SON yet like you promised! So since you love being internet then cause I've been respectful to you and your family long enough!" she wrote on Instagram Stories.
"I've been respectful to you and your family long enough! The attention you looking for you getting it today I'm sick and tired of your bozo clown a** antics," she added while tagging Lil Durk.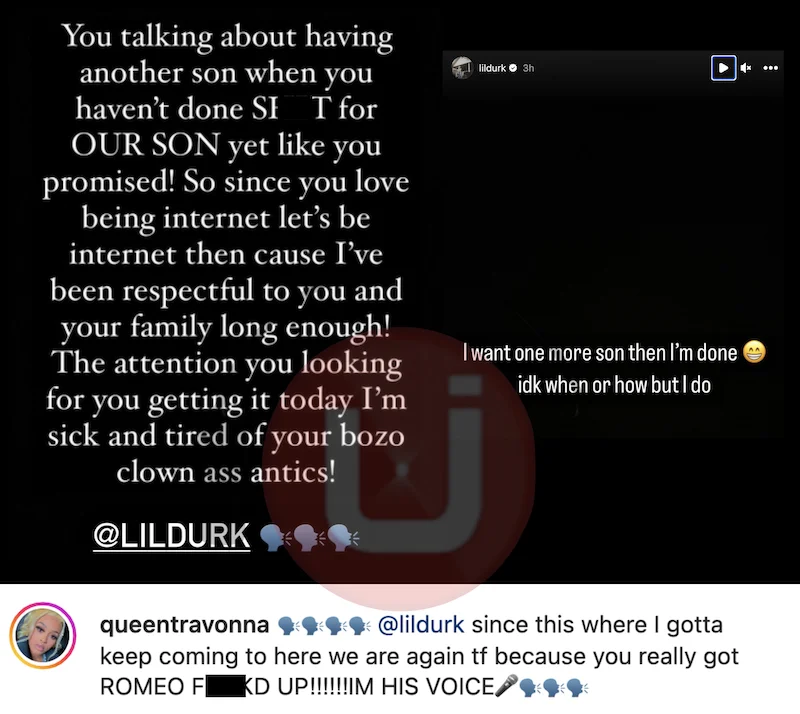 The woman also went on to say her son Romeo was never acknowledged by the Chicago rapper in public, although his family has reached out to meet the young boy.
The woman also shared more screenshots proving that Durk's family had reached out. One photo of a conversation showed a woman named Kiera reaching out. "Your son is my nephew. I didn't know anything about this until recently. I would love to see my nephew," the post from August 1, 2021, read.
Travonna also shared a screenshot of the rapper's sister and her son apparently chatting on an Instagram video. She added that Durkio's family was involved with the boy, but his alleged father has made no effort. Lil Durk has never publicly acknowledged the woman's son, who does bear a slight resemblance to him.
Lil Durk is fresh out of a relationship with India Royale.