Kwara women led by female government cabinet members and ruling APC candidates held a rally on Saturday in Ilorin to mobilise support for the re-election of Gov. AbdulRahman AbdulRazaq.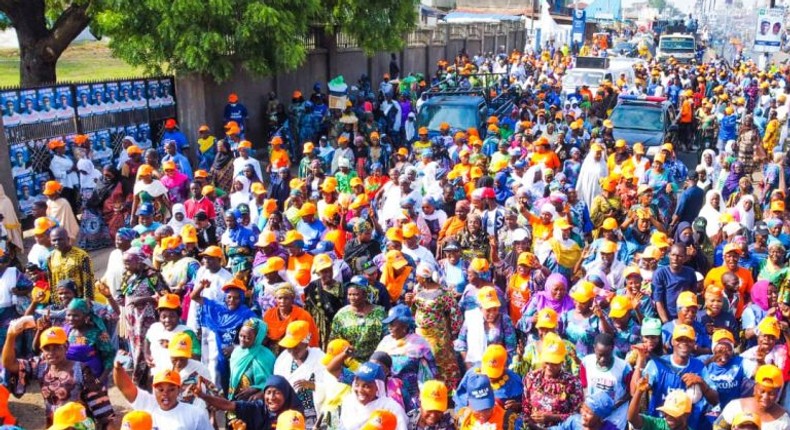 Organisers listed the rally as part of activities to mark the 2023 International Women's Day, which held on March 8.
The rally criss-crossed major streets of the Kwara capital with marchers displaying banners that spoke to the strides of the governor in gender mainstreaming and other programmes designed to protect women's interest.
It was attended by party faithful, women and youths support groups in the state.
Commissioner for Finance, Ms FOylorence eyemi, said "this is an after-event celebration of the International Women's Day.
"All women in Kwara came together to celebrate Gov. AbdulRahman AbdulRazaq for deepening gender parity in governance and politics.''
She said APC in Kwara had produced the highest number of women contesting for elective positions in Nigeria; a feat she traced to the gender inclusion policy of the governor.
"Kwara has the highest women representation as party candidates that are contesting for House of Assembly seats.
"This is an opportunity to come out and celebrate the governor's achievements for his gender-inclusion in governance to ensure that women are doing it right.
"We are sure that women of Kwara will reciprocate this gesture at the polls.
"The governor has also signed a law on affirmative action of at least 35 per cent representation (appointments) of women in public offices.
"This rally is an appreciation of the governor for his support. We are grateful to him for setting the pace for other Nigerians to follow.
"Dignitaries at the rally include the Principal Private Secretary to the Governor, Mrs Monsura Gafar; Commissioner for Women Affairs, Hajiya Hassana Ahmed and the Commissioner for Water Resources, Hajiya Mopelola Bashir-Abdulmalik.
"Also in the rally are Commissioner for Special Duties, Ms Bosede Buraimoh; Commissioner for Education, Sa'adatu Modibbo-Kawu and Commissioner for Environment, Remilekun Banigbe.
"Among the women are the Clerk of the Kwara House of Assembly, Hajia Halimat Kperogi; House of Assembly candidate for Ilorin East Constituency, Arinola Lawal and her counterpart for Owode/Onire constituency Rukayat Shittu,'' she said.
In her remarks, Lawal said Gov. AbdulRazaq had given womenfolk a fair chance to contribute to the development of the state and beyond, hence the celebration.
"I say a big thank you to Gov. AbdulRazaq for giving women the chance to contribute to society."
Also addressing the rally, Shittu corroborated Lawal as she said Gov. AbdulRazaq's administration had been youth and women-friendly.
She added that such disposition gave youths like her the space to bid for elective positions.
Shittu expressed the hope and prayed that she and other candidates of the APC would emerge victorious at the March 18 polls.
JOIN OUR PULSE COMMUNITY!
Our newsletter gives you access to a curated selection of the most important stories daily.
Welcome to the Pulse Community! We will now be sending you a daily newsletter on news, entertainment and more. Also join us across all of our other channels – we love to be connected!
Unblock notifications in browser settings.