INEC said the blacklisted ad hoc staff will not participate in the upcoming governorship and state assembly elections in the state.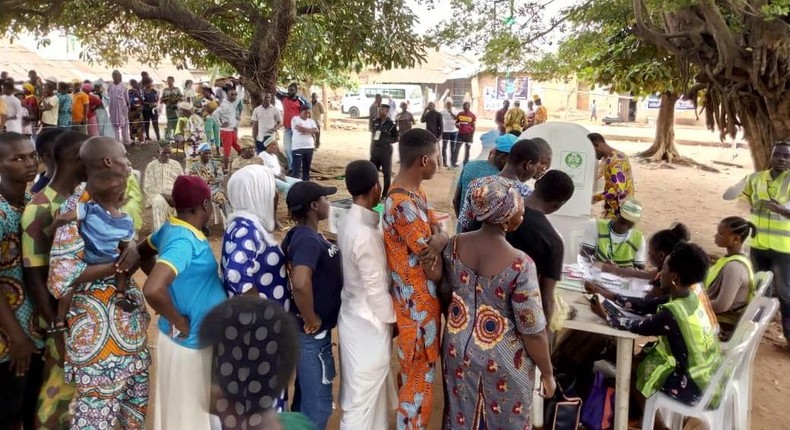 INEC Resident Electoral Commissioner in Akwa Ibom, Dr Cyril Omorogbe says the commission has delisted 100 ad hoc staff in the state over alleged involvement in election malpractices.
Omorogbe made the disclosure in an interview with the News Agency of Nigeria (NAN) in Uyo on Thursday.
He said the affected ad hoc staff were found culpable of electoral malpractices during the Presidential and National Assembly elections in the state.
"We blacklisted them, we will not use them during the Governorship and House of Assembly elections on Saturday," he said.
The resident electoral commissioner said the commission had started distributing sensitive materials to Local Government Areas of the state ahead of the Saturday elections.
Omorogbe said that all arrangements had been made to ensure early arrival of materials and personnel for the polls.
"We have made adequate preparations to ensure that materials and personnel do not arrive late at polling units.
"We are aware of the complaints raised during the presidential and national assembly elections, we do not want that to repeat itself," he said.
He said the commission had made arrangements for backup vehicles in the event of sudden breakdown of any utility vehicle.
"This arrangement is to ensure that materials and personnel are conveyed to polling units without delay.
"I can assure you that the challenges we faced during the last elections won't be repeated," he said.
He said the commission was collaborating with security agencies to ensure improved security during the exercise.
JOIN OUR PULSE COMMUNITY!
Our newsletter gives you access to a curated selection of the most important stories daily.
Welcome to the Pulse Community! We will now be sending you a daily newsletter on news, entertainment and more. Also join us across all of our other channels – we love to be connected!
Unblock notifications in browser settings.