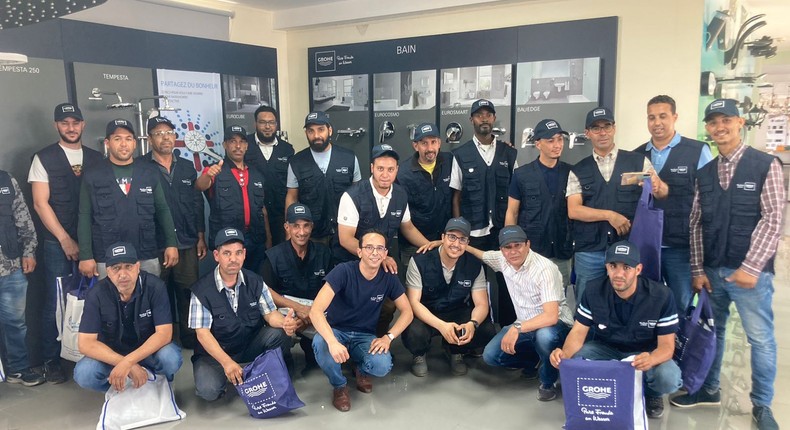 GROHE, a global leading brand in complete bathroom solutions and kitchen fittings, is celebrating World Plumbing Day on March 11 for the second consecutive year, along with professionals in countries where the company operates.
This is an opportunity for GROHE to reinforce its support for the plumbing community and celebrate their important role in the sanitary industry, both in Nigeria and around the world.
Antoine Kaissar, Leader North and West Africa, LIXIL EMENA, stated, "GROHE is celebrating World Plumbing Day for the second time, and this year, in addition to raising public awareness about the importance of the plumbing profession, we have decided to pay tribute to plumbers in Nigeria.
"They are the technical specialists who are in daily contact with end-users, and it is important for us to support them in order to ensure better service for our customers. We want to ensure that they can draw on GROHE's expertise to meet the needs of their clients."
Therefore, International Plumbing Day is an opportunity for GROHE to celebrate the professional achievements of plumbers and pay tribute to them on this special day. It is worth noting that GROHE has always been committed to its ecosystem. This commitment is demonstrated by initiatives launched by the brand to further improve the living conditions of people, as well as professional training.
One of these initiatives is the GIVE program ("GROHE Installer Vocational Training and Education") launched by GROHE in the North and West Africa region.
This program aims to strengthen the capabilities of sanitary installers in the EMENA region and provides practical training in accordance with the latest industry standards.
The GIVE programme aims to help young people from all backgrounds improve their quality of life and that of their families.
Kaissar stated, "We offer students a training and education program that will prepare them to become qualified plumbers and provide them with a better professional future."
It should be noted that the GIVE program has already been launched in countries such as Ghana in 2021 and Morocco in 2022.
Other openings are planned in the North and West Africa region to reach even more people and contribute to the training of qualified installers in the sanitary industry.
JOIN OUR PULSE COMMUNITY!
Our newsletter gives you access to a curated selection of the most important stories daily.
Welcome to the Pulse Community! We will now be sending you a daily newsletter on news, entertainment and more. Also join us across all of our other channels – we love to be connected!
Unblock notifications in browser settings.