Governor Ademola Adeleke of Osun presented ₦632 million bond certificates to retirees in the state on Thursday in Osogbo.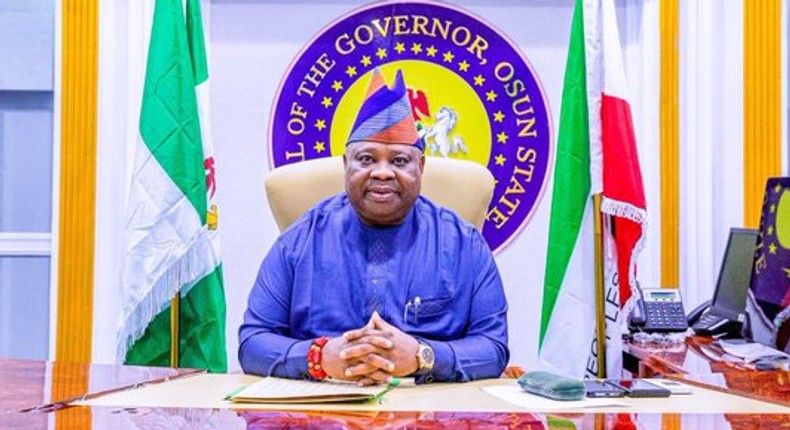 He said at the event that 119 retirees in the core civil service, parastatal agencies, tertiary institutions, local government and retired primary school teachers would benefit from the bond.
The governor said since the inception of his administration, he had released ₦1.528 billion bond certificates to state and local government retirees, while ₦350 million had been released for the payment of gratuities.
He added that he had released ₦700 million in bond certificates to those who retired November 2022 and January 2023 under the contributory pension scheme.
"I approved ₦828 million bond certificates for those who retired from primary schools and local governments between November 2022 and January 2023.
"With respect to the old pension scheme, I have paid N200 million as gratuity up to January 2023.
"At the local government level, N150 million had so far been released as gratuity to retired local government staff and primary school staff.
"Let me make this clear. I am not doing you any favour. I am only fulfilling the task you voted me to do. It is in that spirit that I am extending this attention to contributory pensioners,'' he said.
The governor said he was particularly interested in ensuring that workers got emoluments owed them after serving the state.
"Since I took over the administration of this state, my constant focus is how best to resolve all outstanding workers-related debts.
"It is unacceptable for a government to treat its pensioners the way the past government had done.
"I have decided never to follow that path. Workers, in and out of service, deserve their due emoluments. It was in that spirit that I attended to the issue of half salary.
"We are paying it and we will clear all outstanding salaries based on our people-oriented template,'' he said.
In his remarks, Mr Leye Aina, the Head of Service, said ₦350 million was now being released on monthly basis to the contributory pension scheme as against the ₦175 million that was released monthly in the past.
Aina said ₦100 million was released as gratuity under the old pension scheme as against the former ₦50 million.
For the Local Government Service, the Head of Service said ₦400 million had been approved monthly for the contributory scheme, while ₦150million was being released to the old pension scheme.
"It is also very important to mention that the state government had continued the regular payment of monthly pension at the state level in the range of ₦500 million.
"It has also been paying some ₦348 million monthly contributory pension at the local government level, while monthly remittances to Pension Funds Administrators continue unabated,'' Aina said.
JOIN OUR PULSE COMMUNITY!
Our newsletter gives you access to a curated selection of the most important stories daily.
Welcome to the Pulse Community! We will now be sending you a daily newsletter on news, entertainment and more. Also join us across all of our other channels – we love to be connected!
Unblock notifications in browser settings.