The Labour Party had asked the court to declare that INEC has no power to opt for manual method of collation and transmission of election results.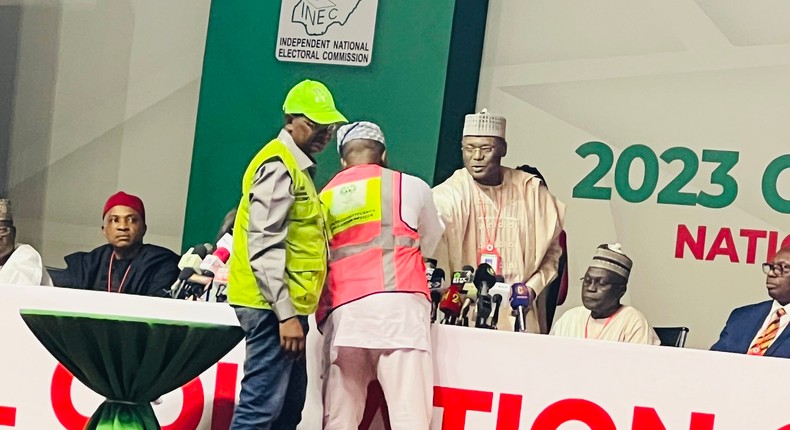 A Federal High Court sitting in Abuja on Friday, March 10, 2023, has ruled that the Independent National Electoral Commission (INEC) is fully empowered by the Electoral Act 2022 to determine the mode of collating and transmitting election results.
In a judgement delivered by Justice Emeka Nwite, the court held that only the electoral commission is entitled to issue directives on how a polling unit presiding officer should transfer election results, including the total number of accredited persons and results of the ballot.
The judgement was on a suit filed by the Labour Party and marked as FHC/ABJ/CS/1454/2022 with INEC as the sole defendant.
The party had asked the court to declare that INEC has no power to adopt a manual method other than the electronic method as stipulated by the relevant provisions of the 2022 Electoral Act.
It therefore urged the court to issue an order compelling the commission to strictly adhere to the electronic transmission of results in the 2023 elections.
But, Justice Nwite held on Friday that manual collation and transmission of election results in the 2023 general elections cannot be said to contradict any relevant provisions of the constitution.
In the judgement delivered on January 23, 2023, a copy of which was obtained by The Nation on Friday, Justice Nwite held that the plaintiff misconstrued the provisions of the law and proceeded to dismiss the suit.
"From the argument of the learned plaintiff's counsel, I am of the humble opinion that the bone of contention or the sections that seeks for interpretations are actually sections 50(2) 60(5) and 62(2) of the Electoral Act, 2922. Section 47(2) as cited by the learned counsel to the plaintiff only deals with accreditation of voters using a Smart Card Reader, but not collation or transmission of result as postulated by the learned counsel," the paper reported.
JOIN OUR PULSE COMMUNITY!
Our newsletter gives you access to a curated selection of the most important stories daily.
Welcome to the Pulse Community! We will now be sending you a daily newsletter on news, entertainment and more. Also join us across all of our other channels – we love to be connected!
Unblock notifications in browser settings.