A school bus conveying children of ages one to five, on Thursday in Lagos, summersaulted and injured the occupants.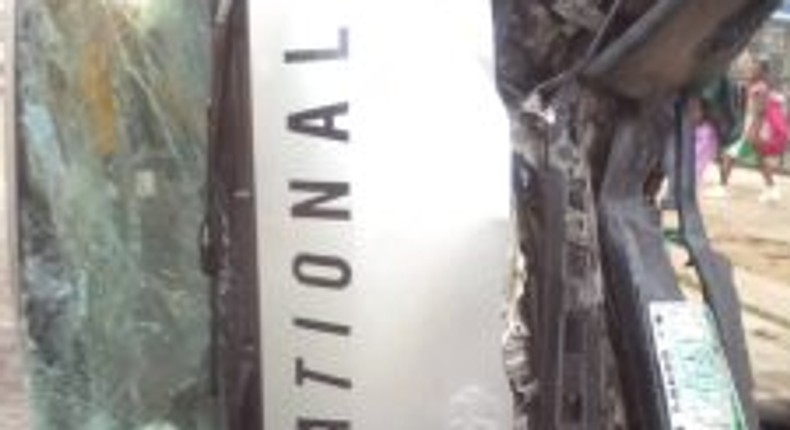 The accident occurred in the morning at Surulere. A News Agency of Nigeria (NAN) correspondent, who witnessed the accident, reports that the bus with registration number KTU-465DN hit a median barrier and pulled off a concrete holding a street light, before summersaulting.
Sympathisers rushed to the scene and took the injured children and a caregiver on board, to nearby Topaz Hospital.
The driver of the bus, who also sustained injuries, fled the scene, apparently for fear of a mob attack.
At the Topaz Hospital, doctors and other health workers quickly attended to the victims.
Dr Sanusi Olatunbosun, who was on duty, later told NAN, "Seven people were in the school bus, three had serious injuries while four had minor injuries."
Olatunbosun said that all the victims were treated and placed on two-hour observation before they were discharged.
He said that the hospital was expecting the school to offset the medical bills.
"They are all conscious and discharged in good condition," he said.
Olatunbosun said that he advised the school to tell the children's parents to closely observe them and report any symptoms such as dizziness, drowsiness, weakness and oversleeping.
Some youths at the accident pushed the school bus from the middle of the road to ease traffic.
Lagos State Emergency Management Agency personnel also came to accident scene to manage traffic.
JOIN OUR PULSE COMMUNITY!
Our newsletter gives you access to a curated selection of the most important stories daily.
Welcome to the Pulse Community! We will now be sending you a daily newsletter on news, entertainment and more. Also join us across all of our other channels – we love to be connected!
Unblock notifications in browser settings.