Atiku says he has the right to protest and vows to extend his party's demonstration against INEC.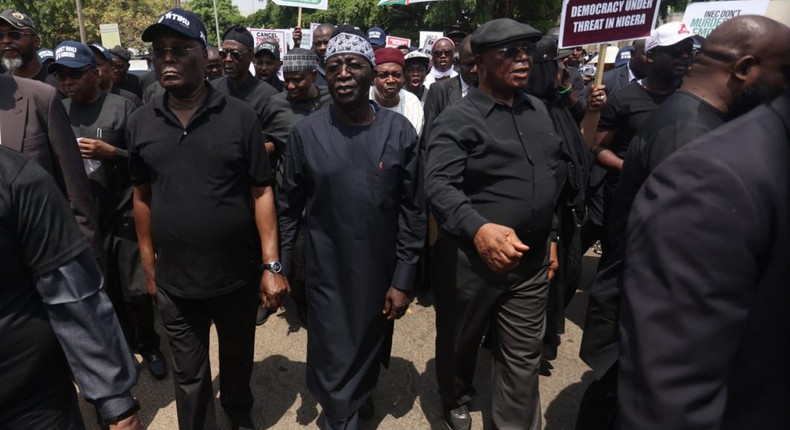 The Presidential candidate of the Peoples Democratic Party, Alhaji Atiku Abubakar is ready to continue protesting against the Independent National Electoral Commission (INEC) following his defeat to the president-elect, Bola Tinubu of the ruling All Progressives Congress (APC).
The protest was attended by the National Chairman of the party, Iyorchia Ayu, Sokoto State Governor, Aminu Tambuwal, and his Taraba State counterpart, Darius Ishaku, Senator Dino Melaye and other top party members.
While addressing journalists outside INEC headquarters, during the protest, Atiku vowed that the demonstration would continue.
"All the provisions of the current electoral law have been completely contravened. We were protesting and then INEC was not listening and went on to announce the result. That is why we are protesting. We have the right to protest and it will continue for a very long time, either every day or any other day. We have the right to protest under the constitution, and it doesn't stop us from going to the court,'' he said.
Bayo Onanuga, Director, Media and Publicity, APC Presidential Campaign Council (PCC), also advised the PDP candidate to respect his age and the high office of the Vice-Presidency of Nigeria he once occupied.
JOIN OUR PULSE COMMUNITY!
Our newsletter gives you access to a curated selection of the most important stories daily.
Welcome to the Pulse Community! We will now be sending you a daily newsletter on news, entertainment and more. Also join us across all of our other channels – we love to be connected!
Unblock notifications in browser settings.