The FRSC said the crash occurred as a result of excessive speed and wrongful overtaking.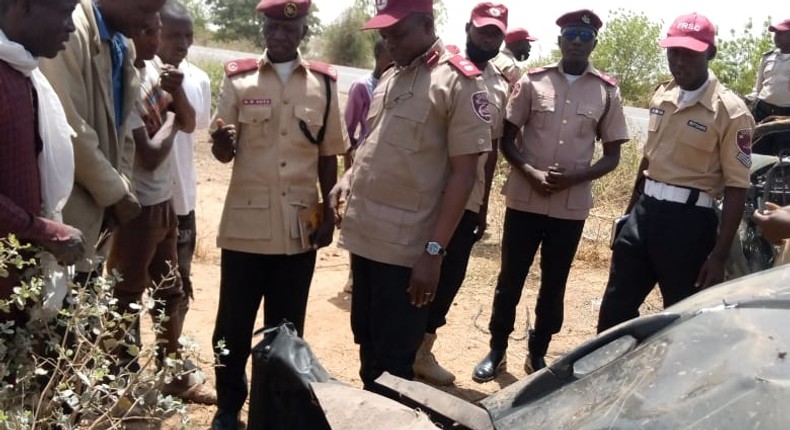 Seventeen persons died and three others were injured in an auto crash in Yaura village, on Wudil-Bauchi Road, in Albasu Local Government Area.
The Kano State Sector Commander, Federal Road Safety Corps (FRSC), Mr Ibrahim Sallau Abdullahi, confirmed the incident in a statement signed by the Public Relations Officer, Abdullahi Labaran, on Thursday in Kano.
He said that the accident involved a Honda Accord with registration number NSR 81 VW and a Volkswagen Sharon (bus) with registration number NNG 275 XA.
According to the statement, the accident, in which one person escaped unhurt, occurred on Wednesday afternoon.
"Motorists passing by informed our patrol operatives at about 14.20p.m. On receiving the information, we quickly dispatched our personnel and vehicle to the scene of the incident to rescue the victims at 14.25p.m," Abdullahi said.
The sector commander said that the crash occurred as a result of excessive speed, wrongful overtaking which led to loss of control, and head on collision, with one of the vehicles bursting into fire immediately.
"The crash involved a total of 21 passengers in the two vehicles, out of which 11 adult males, five adult females and one male child lost their lives while three others sustained serious injuries — one adult male, one adult female and one male child," he said.
Abdullahi said the injured were taken to Wudil General Hospital for treatment, while the corpses of the deceased were handed over to relatives of the victims.
He advised motorists to obey traffic rules and regulations, to avoid needless deaths and injuries on our roads.
The sector commander commiserated with families of the victims and prayed for the repose of souls of the departed.
JOIN OUR PULSE COMMUNITY!
Our newsletter gives you access to a curated selection of the most important stories daily.
Welcome to the Pulse Community! We will now be sending you a daily newsletter on news, entertainment and more. Also join us across all of our other channels – we love to be connected!
Unblock notifications in browser settings.