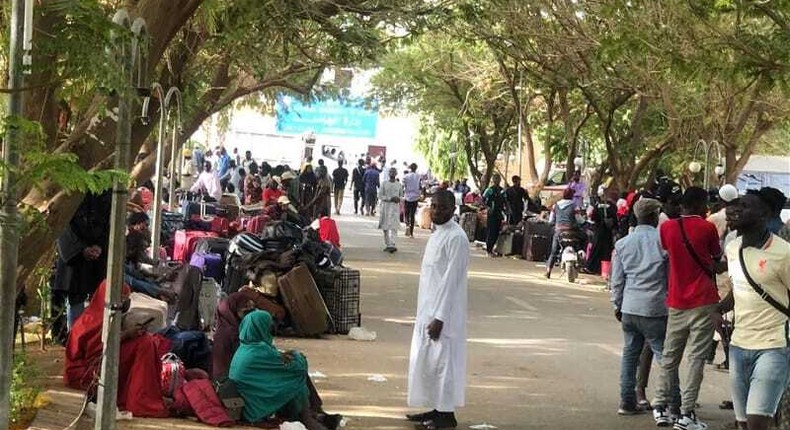 Nigerian students who have been stranded in Sudan due to the recent unrest in the country are finally getting some relief.
The Nigeria Diaspora Commission (NIDCOM) announced on Wednesday, April 26, 2023, that they have received several buses to transport the students to nearby borders in Egypt, where they will be airlifted back to Nigeria.
The NIDCOM also confirmed that the airlifting process will commence soon, and preparations are currently ongoing at the Abuja Airport to receive the returning students.
Speaking on the development, the Chairman of the NIDCOM, Abike Dabiri-Erewa, stated that the commission had been working with the Nigerian Embassy in Sudan to ensure the safe return of the students.
She also appreciated the efforts of the Nigerian Mission in Khartoum, Sudan, and the Nigerian Community in Sudan for their support in ensuring the safety of the stranded students.
What is going on in Sudan?
The move comes as Sudan experiences widespread violence and chaos following clashes between the military and paramilitary forces. According to reports, at least 185 people have been killed, and over 1,800 injured.
The violence erupted over tensions about the transition from military to civilian rule. In the days leading up to the clashes, Rapid Support Forces (RSF) troops were deployed around the country. This deployment was viewed as a violation of the law by the army, leading to tensions between the two groups.
The crux of the disagreement between the military and paramilitary was how and when the RSF should be integrated into the military. The military wanted the transition to happen within two years, while the paramilitary insisted it would take ten years.
JOIN OUR PULSE COMMUNITY!
Our newsletter gives you access to a curated selection of the most important stories daily.
Welcome to the Pulse Community! We will now be sending you a daily newsletter on news, entertainment and more. Also join us across all of our other channels – we love to be connected!
Unblock notifications in browser settings.
What's your reaction?