He said the computer training would make the students employable while furthering their education.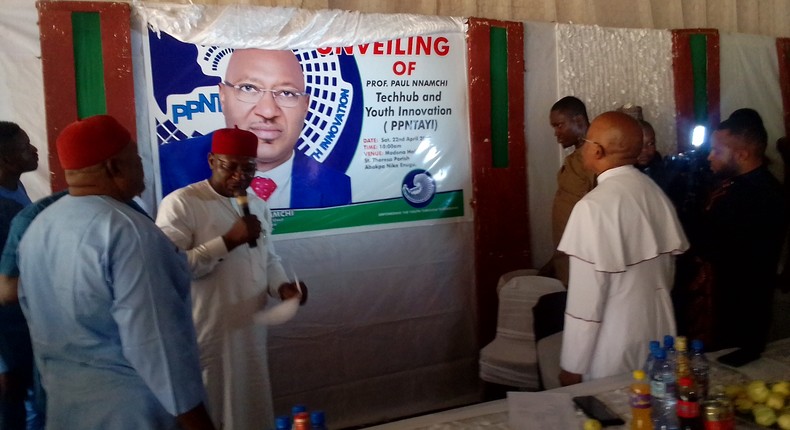 Prof. Paul Nnamchi, member-elect for Enugu East/Isi Uzo Federal Constituency, has launched a tech-hub and innovation centre for youth empowerment in Enugu State.
Nnamchi, elected on the platform of Labour Party (LP), unveiled the programme at Abakpa-Nike, Enugu on Sunday at the graduation of 150 students that participated in a computer training session he sponsored.
His empowerment scheme is christened: "Prof. Paul Nnamchi Tech-hub and Youth Innovation (PPNTAYI)''.
Nnamchi said he planned to hit the ground running by providing sustainable empowerment in various endeavours for his constituents and by extension for all residents of Enugu State.
"I am in a hurry to ensure that my constituents, and by extension Enugu State, feel the full-impact of our people-oriented leadership and people-focused innovations and programmes meant to better their lives.
"The PPNTAYI platform is a vehicle to deliver my campaign promises and to ensure that the majority of our people are moved from consumers to producers.
"I have the burning zeal to deliver the aspiration of my people that have been abandoned for a long time. The limited time at my disposal explains why I am hitting the ground running even before being sworn in.
"I intend to use the limitless boundaries of education, especially in various endeavour of human existence to push my people up in the socio-economic ladder,'' Nnamchi said.
He added that PPNTAYI had numerous programmes including Science, Technology, Engineering, and Mathematics (STEM) educational programme for youths and commerce education for adults.
It also has sustainable education programme for rural development and innovative, renewable energy education for others, he said.
"We need human capital development and also need to teach our people the effects of climate change, which is real and it is already affecting our lives.
"I have a centre at Enugu State University of Science and Technology focused on rural sustainable development where we train women and youths sustainable agriculture and conversion of waste to wealth,'' he said.
On the graduation of 150 students at the tech-hub, Nnamchi said PPNTAYI would ensure that students in the constituency acquired modern knowledge and skills to compete favourably everywhere.
"We are gradually moving to the level of highly-skilled computer and Information Technology to exploit software programme design, coding and other advanced computer technology uses,'' Nnamchi stressed.
In his remarks, coordinator of the computer training, Nwachukwu Igwe, said the student had a month-long intensive training in computer appreciation, Microsoft programming, and advanced use of internet among others.
"More than 98 per cent of the students are proficient in computer and Information Communication Technology and we intend to graduate them to higher levels,'' he said.
Also speaking at the ceremony, Chief Emeka Ogene, LP chairman in Isi-Uzo Local Government Area of Enugu State, said the PPNTAYI platform showed the party's commitment to keep to its campaign promises and put the people first.
Ogene assured that people would soon start to witness innovative transformation by the party to take good governance to the next level in the country.
In his remarks, Monsignor Chuks Ogbuene, Parish Priest in-charge of St. Theresa Catholic Church Abakpa-Nike, Enugu, where the training took place, noted that Nnamchi had started in a good footing by putting the people first.
He said the computer training would make the students employable while furthering their education.
One of the graduating students, Master Usman Emmanuel, thanked Nnamchi for the opportunity of free computer training and the cash award of N10,000 upon completion of the training.
Another graduating student, Miss Uchechukwu Eze, appreciated Nnamchi for making the free computer training possible, adding.
"I pray for good health and wisdom for Prof. Nnamchi for him to continue to excel,'' she said.
JOIN OUR PULSE COMMUNITY!
Our newsletter gives you access to a curated selection of the most important stories daily.
Welcome to the Pulse Community! We will now be sending you a daily newsletter on news, entertainment and more. Also join us across all of our other channels – we love to be connected!
Unblock notifications in browser settings.
What's your reaction?