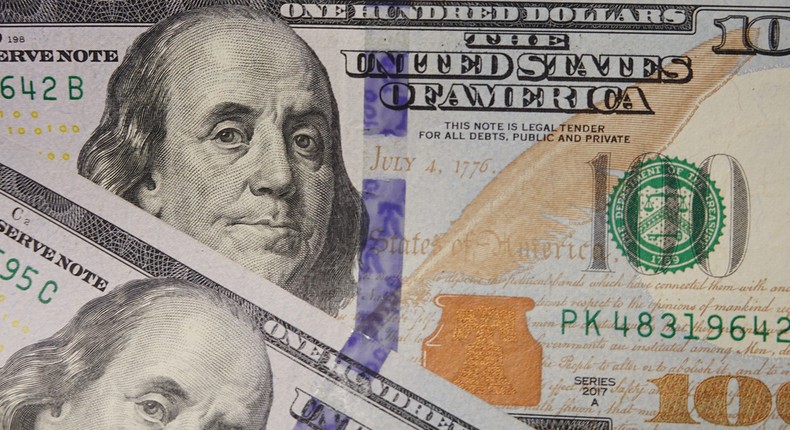 Improved Availability of US Dollars: Recent days witness a positive shift in the availability of the greenback for large purchases, putting an end to the acute dollar shortage in Kenya. 
President Ruto's Intervention: President William Ruto's order to resurrect the interbank foreign exchange market aims to eliminate market anomalies that exacerbated the scarcity of foreign cash in the country. 
Decrease in Parallel Market Rates: The difference between the official central bank rate and the parallel market rate has significantly reduced, alleviating the widening gap and reducing the criminal market for dollars.
Kenya's acute dollar shortage has subsided after the interbank currency market's resurgence on instructions from the country's state house.
Recent days have seen an improvement in the greenback's availability for large dollar purchases, which is a notable change from the previous market situation, in which some days, banks ran out of US currency while other days placed a daily restriction on dollar purchases of as small as $5,000 (Ksh678,750).
To eliminate market anomalies that had aggravated the foreign cash shortage, Kenyan President William Ruto issued an order on March 22 calling for the resurrection of the interbank foreign exchange market.
In recent years, the interbank market for a hard currency has been inactive as a result of what traders have described as harsh central bank enforcement that has made it challenging to conduct transactions.
The government has even been obliged to seek lengthier credit durations for necessary imports like gasoline due to an acute scarcity of hard currency, which has been partially attributed to the absence of a functioning interbank foreign exchange market.
Additionally, a parallel market has developed, with money changers offering a foreign exchange rate that differs from the official central bank rate by more than Ksh10 per dollar.
The difference between official and open market rates has now decreased from Ksh13 in early March to an average of Ksh6 per dollar.
Due to the shortage of dollars, widening the gap sparked a criminal market in them. In addition, banks are now purchasing dollars from clients at prices below the official Central Bank of Kenya (CBK) rate, a situation that occurred before the disruption of the local foreign exchange market.
The growing disparity in the dollar exchange rate is caused by banks' incapacity to compare and compete on pricing when selling to one another, which has placed purchasers at the mercy of sellers.
Depositors have more than Ksh980 billion ($7.22 billion) in foreign currency in bank accounts, therefore some are also being forced to buy dollars from their customers while giving consumers the option to negotiate pricing.
Top companies had begun exchanging dollars among themselves, and those in need of hard money showed interest in the hotel and airline industries.
According to an official working paper from the International Monetary Fund (IMF), a parallel exchange rate market emerges under such conditions and when the disparity between the official and parallel rates is both significant and persistent.
The secondary consequence of increased consumer prices and probable supply disruptions of essential imported items makes the dollar shortage a matter of worry for the whole country. Due to the worries, Ruto requested that the CBK and commercial lenders restart the interbank foreign exchange market.
JOIN OUR PULSE COMMUNITY!
Our newsletter gives you access to a curated selection of the most important stories daily.
Welcome to the Pulse Community! We will now be sending you a daily newsletter on news, entertainment and more. Also join us across all of our other channels – we love to be connected!
Unblock notifications in browser settings.
What's your reaction?