The registrar came up with the idea of creating JAMB Equal Opportunity Group (JEOG), where eminent Nigerians were picked to actualise the dream…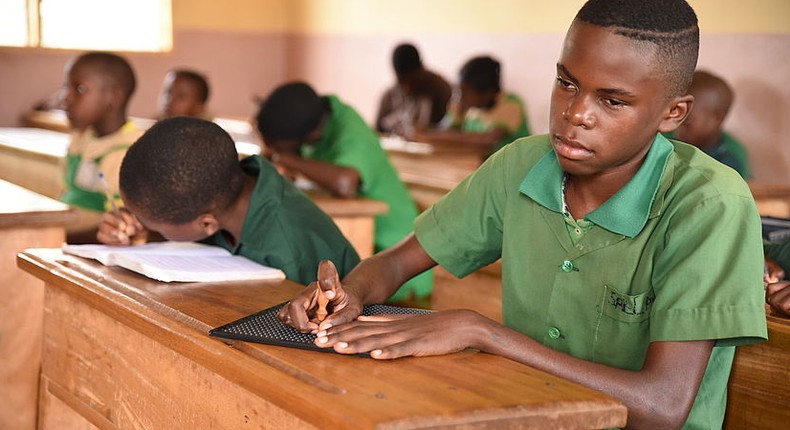 At least 27 visually impaired students participated in the Unified Tertiary Matriculation Examination (UMTE) organised by the Joint Admissions and Matriculation Board (JAMB) in Enugu.
The exercise took place on Thursday, April 27, 2023, at Coscharis Hall, Law Faculty, University of Nigeria, Enugu (UNEC).
News Agency of Nigeria (NAN) reports that the supervisors read out the questions and the students were provided with options which they chose and wrote with the help of typewriters, braille, and laptops, among other things.
Professor Emeritus, University of Nigeria Nsukka (UNN), and Coordinator of the examination, Prof. Mosto Onuoha, spoke about the exercise and said it was the brainchild of the current JAMB Registrar, Prof. Ishaq Oloyede, to accommodate physically challenged persons in the country.
He stated that the registrar came up with the idea of creating JAMB Equal Opportunity Group (JEOG), where eminent Nigerians were picked to actualise the dream of conducting the examination for this class of people.
What you should know about this initiative
Prof. Onuoha stated that the exercise began in 2017 with a few centres in Lagos, Enugu, Abuja, and Kano but was later extended to about 11 centres. He explained that the Enugu centre covered the South-East and South-South parts of the country.
He further stated that physically challenged persons like blind students are also in the universities. They register, fill JAMB forms, and qualify like other students, but instead of using Computer Based Tests (CBT), the blind students use braille, marker board, typewriter, and laptop. The coordinator noted that the number of visually impaired students who sat for the exam dropped this year nationally in many centres.
Onuoha explained that the group's main duty before the exam was to ensure that blind students who applied for JAMB were selected. The coordinator further said that the group would also include other physically challenged persons like albinos in the next exercise.
He pointed out that the board encouraged universities to have special consideration for these people in terms of admission.
The students testify smooth experience
A visually impaired student from Rivers State, Sarima Owhor, who participated in the exam, described the examination as "nice and best" and thanked JAMB for considering them. She stated that she did not encounter any challenges throughout the duration of the examination.
Similarly, Franklin Ifeanyi from Imo State also said the exercise was "hitch-free and smooth," and commended JAMB for choosing the right people to coordinate the exam.
JOIN OUR PULSE COMMUNITY!
Our newsletter gives you access to a curated selection of the most important stories daily.
Welcome to the Pulse Community! We will now be sending you a daily newsletter on news, entertainment and more. Also join us across all of our other channels – we love to be connected!
Unblock notifications in browser settings.
What's your reaction?