Obi urged the Federal Government to expedite efforts to evacuate about 4,000 Nigerians who are currently trapped in Sudan amid ongoing conflict.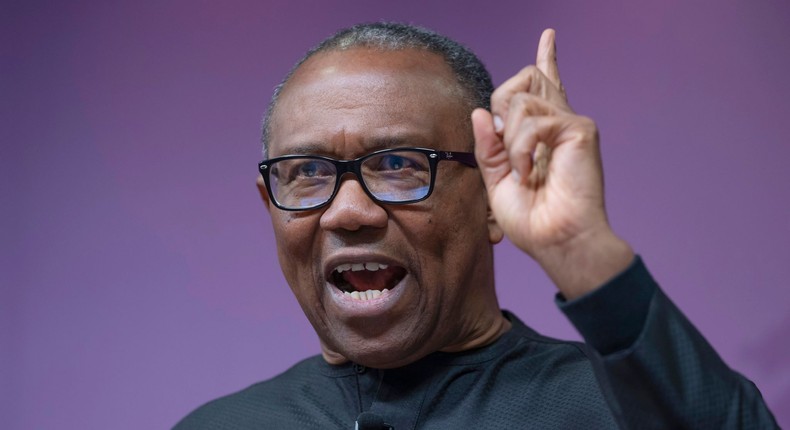 The Labour Party presidential candidate in the 2023 general elections, Peter Obi, has challenged the Federal Government to double its efforts to ensure that Nigerians trapped in the ongoing conflict in Sudan are safely evacuated.
Obi's reaction comes amid what many perceived to be a slow response by the government to the calls of Nigerians, mostly students, who have begged to be evacuated from the conflict zone.
The Federal Government in a statement on Friday, April 21, 2023, explained the difficulty it was facing in its effort to evacuate the stranded citizens from the Northeastern African country.
Sudan has been boiling for over one week as a fierce confrontation broke out between a paramilitary group, Rapid Support Force (RSF) and Sudanese armed forces on Saturday, April 15, 2023.
Reports say no fewer than 400 lives have been lost while 3,500 people have been injured as the internal conflict showed no sign of abating.
The raging fight has made flight operations a great risk as many nationals have been trapped in the African country.
The Federal Government had said in the statement issued by the Chairman/CEO, Nigerians in Diaspora Commission, Hon Abike Dabiri-Erewa, that although the Nigerian Mission in Sudan and the National Emergency Management Agency (NEMA) had put in place arrangements to evacuate the stranded citizens, flight operations were impossible in this period of war.
About 4,000 Nigerians, including over 1,700 students, have indicated their readiness to leave the war-torn country and appealed to the government to facilitate their evacuation.
Reacting to the development, Obi, in a series of tweets on his Twitter handle on Sunday, April 23, 2023, said he's saddened by the inability of the government to get the stranded Nigerians in Sudan to safety.
While acknowledging the extreme challenges preventing a safe evacuation, the Labour Party candidate noted that it will be very unfortunate for the country to lose any of its citizens to the conflict in Sudan.
Obi's tweets read: "I'm sad and concerned by the reports that Nigerians trapped in Sudan have not been evacuated. While we understand the extreme challenges in Sudan, we deeply implore the Federal Government of Nigeria to expedite all efforts to rescue about 4000 Nigerians that are mostly students in Sudan to safety.
"Moreover, as the Sudanese crisis in not a natural disaster that happened suddenly, it will be sad to lose any Nigerian to the conflict, especially now that we need all hands to create and sustain a New Nigeria.
"Since it is the statutory responsibility of FGN to protect Nigerians at home in Nigeria and abroad, it is important that we attend to such issues with more deserving proactiveness and commitment as the life of every Nigerian is sacred and important.
"A New Nigeria is really imperative and Possible. -PO."
JOIN OUR PULSE COMMUNITY!
Our newsletter gives you access to a curated selection of the most important stories daily.
Welcome to the Pulse Community! We will now be sending you a daily newsletter on news, entertainment and more. Also join us across all of our other channels – we love to be connected!
Unblock notifications in browser settings.
Get our Top Stories delivered to your inbox
Welcome to the Pulse Community! We will now be sending you a daily newsletter on news, entertainment and more. Also join us across all of our other channels – we love to be connected!
What's your reaction?